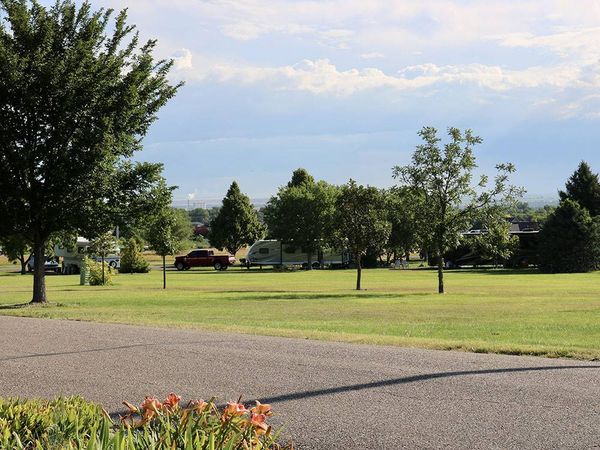 Robidoux RV Park
585 Five Rocks Road Gering, NE 69341
Located at the base of The Scotts Bluff National Monument, along the historic Oregon Trail and Pony Express trails, the Robidoux RV Park is a wonderful destination for your camping and sight seeing adventure. The campground is surrounded by the beautiful scenic Wildcat Hills Recreation Area and is open year round. Choose from 37 camping sites complete with electricity, sewer, and water hook-ups and 5 sites for those requiring only electric and water. A multi-purpose building is located on the premises that houses shower and laundry facilities as well as a multi-purpose room which can be rented for a variety of activities and events, and can be reserved by RV Park guests and the public at any time of the year. The room accommodates 40 to 60 people with its spacious and inviting environment. The kitchen area includes a stove, oven, and refrigerator, with a beautiful view of the surrounding hills for your guests to enjoy.
Total area of 15 acres with rest rooms and showers, multipurpose use building, outdoor BBQ grills, basketball court, playground structure are sure to meet your camping needs.A septic dump station is also located on the premises for your camping needs.
Free Wireless Internet Access Available
Good Sam Discount - 10% Rates include tax. In order to receive Good Sam discount reservation must be made by phone or in person. Call 308-436-2046 to get the discount.
WE DO NOT HAVE MAIL FACILITIES ON SITE, SO PLEASE DO NOT FORWARD MAIL TO THIS ADDRESS.
Visa, MasterCard & Discover accepted
Check-out time is 11 AM, Check-in is 1 PM unless arranged in advance with campground staff. PLEASE CALL THE OFFICE TO MAKE ARRANGEMENTS IF YOU NEED TO CHECK IN PRIOR TO 1 PM
No more than three pets per site (excluding fish in an aquarium). City ordinances only allow 2 dogs per site. Proof of a kennel license for more than 2 dogs is required. A kennel is an enclosure (thus camper) where three or more dogs are confined for any purpose.
Amenities
Basketball
Office
Laundry/Laundromat
Restroom
Showers
Dump/Sani Station
About the Owner
Contact the property
Policies
CURRENT OFFICE HOURS FALL/WINTER HOURS 11 am to 3 pm Monday Thru Friday, Saturday 11 am to 2 p.m and CLOSED ON SUNDAYS
CHECK-IN/ CHECK-OUT: Check in not before 1:00 PM Mountain Time Check out is 11 am Mountain Time *Sorry NO late Checkouts
VEHICLE: As we like to keep roadways clear in case of emergency. If you require additional parking please see map for additional visitor parking
QUIET TIME: 10:00 pm to 8:00 am. All music to be kept at reasonable levels at all times and turned off at 10:00pm. Campers with complaints about noise levels should call 308-436-5088 this is our county communication center.
NO WOOD FIRE PITS only propane operated pits allowed and may only be used on asphalt surface
GARBAGE: Dumpsters are located on the grounds. We would ask you to leave your site as you found it and deposit all garbage in dumpsters.
Smokers: Cigarette butts are regarded as garbage, please don't throw them on the ground
SMOKING: Smoking is allowed in the great outdoors, but not in any buildings on campground. To avoid possible fires, please extinguish in a proper container
ALCOHOLIC BEVERAGES: Moderate Drinking is allowed within your own Campsite. Public Intoxication will not be tolerated, you will be asked to leave the campground.
LOST AND FOUND: Please return all found items to office.
PETS: We welcome your pets in the park providing they are on leashes at all times and cleaned up after. Please do not leave your pets unattended. Your pets are welcome to exercise in the fenced playground to the west of the campground off leash if no one is utilizing the playground. AGAIN, PLEASE PICK UP DOG WASTE IN THE PLAYGROUND AREA.
PICNIC TABLES: Each site is provided a picnic table. If you combine tables it is your responsibility to move the picnic tables back.
GUESTS: Guests are welcome but must vacate campground by 10 pm (Please refer to map for Visitor Parking) Guests may only park in the parking lot, they are not allowed to park on the sides of teh road OR in the grass.
SPEED LIMIT: We love our guests and want to keep them safe. Speed Limit is 10 mph. PLEASE WATCH FOR CHILDREN PLAYING or RIDING BIKES OR SCOOTERS.
NO Washing dishes in the restrooms
There is a maximum of 14 Night Stay April 1-October 15. Long term stay is only available Oct. 15-March 31 upon request but must be arranged with campground staff.
PETS:No more than three pets per site (excluding fish in an aquarium). City ordinances only allow 2 dogs per site. Proof of a kennel license for more than 2 dogs is required. A kennel is an enclosure (thus camper) where three or more dogs are confined for any purpose.
Cancellation Policy
A 75% refund will be issued for cancellations made more than 14 days in advance of check-in day.
No refunds will be issued for cancellations made within 14 days of the check-in date.
No refunds will be issued for early departures.
Privacy Policy
Protecting your privacy is very important to us.
We will never provide your personal information to any outside sources or use any email provided for unsolicited mail. Any emails received by Robidoux will be in connection with the products and services agreed to and provided.