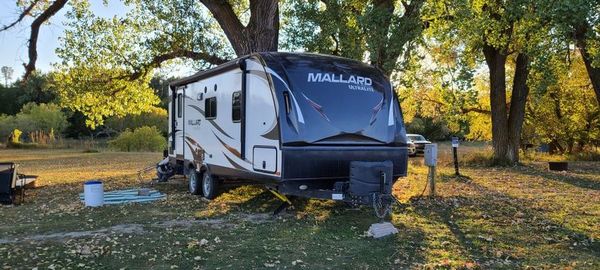 Penbrook Campground
Niobrara River, Sparks River Road Valentine, NE 69201
Penbrook Campground is located along the beautiful Niobrara River just east of Valentine. Owned and operated by the Mercure brothers. If you are looking for some prime river-front camping look no further.
It is approximately 25 miles east of Valentine in the river corridor.
Primitive style camping with a secluded feel. Each site has a picnic table and fire ring. There is a water hydrant with a hose located between RV sites 1 & 2 so there is access to fresh water. Restrooms are port-a-pot style facilities situated throughout the campground.
RV sites have access to the water hose to fill tanks otherwise the hose is to remain free so others can access the water supply.
There are no dump stations along the river corridor. The nearest dump station is in Valentine north of the hospital by the ball fields.
If you are booking over the phone please be sure to read the terms and conditions and cancellation policies. By booking by phone you acknowledge and agree to these terms/conditions and policies.
Amenities
Boat Ramp/Launch
Showers
Womens Restroom
Restroom
About the Owner
Contact the property
Policies
Berry Bridge & Penbrook Campground General Policies
(All times are Central Standard Time)
Season: Memorial Day – Labor Day with manned office hours. 9:00am to 4:30pm.
We are a seasonally staffed operation. Reservations are accepted outside of these dates for tent camping or RV/Trailers requiring electricity. Keep in mind however that water is only available through October 15th. Roads are not maintained during winter months so please do not book unless you speak to someone who can give you accurate information so that you don't get stranded. Most places do not have cellular service in the river corridor so don't rely on these devices to get you out of a situation you are not prepared for.
Some calls may go unanswered due to the line already being in use. If you get voicemail then please leave us a message because we are either on the other line or out on site.
If you book in the off-season then be aware that someone may not contact you for several days if at all. If you have questions during the off-season please direct them to 402-376-2503. Always leave a message. If you are not contacted within 48 hours then assume your message was not clear or it did not go through.
Tent Camping & RV/Camper
Check In: 2:00pm
Check Out: 11:00am
Base Rates for camping include 2 adults which is the minimum. An additional per night, per person applies for more than 2 adults or children & pets.
RV/Campers with hookup include the minimum, two adults plus daily electric/water fees. An additional per night, per persona applies for more than 2 adults.
Bunkhouse
Check In: 2:00pm
Check Out: 11:00am
Maximum occupancy is either 5 or 8 whichever the size of the bunkhouse booked.
Absolutely no animals allowed in bunkhouses. The person behind you may be allergic to pets.
Quiet Hours:
11:00pm to 7:00am central.
Any unreasonably loud noise is prohibited at any time, including TV's, Radios, and Generators.
If you need to use a generator then please contact the office prior so you can be placed in the zone that will not bother your fellow camper. Loud generators will be allowed to run from 9:00 am to 4:00 pm central. Otherwise, they will not be allowed outside of the designated generator zone.
Only one RV per site. (exception: a small tent may also be on the site).
Do not leave food outside at night. This will deter any unwanted guests such as raccoons or skunks. Not only do they eat your food and drink your drink they spread your trash.
Speed Limit: 15mph
No bike riding after dark.
We do not supply sinks in the restrooms. This is so they can remain sanitary and food free.
No washing DISHES IN THE SHOWER HOUSES!
Fire pits are to remain garbage free. Fire pits found with trash burned or glass/aluminum will have a site fee of not less than $100.00 per site minimum for clean-up.
Campsites must be kept clean during occupancy and cleaned upon departure. DO NOT leave garbage on the site. All garbage must be placed in the dumpsters provided.
Extinguish your campfire before leaving it unattended while out on day excursions. Extinguish your fire before retiring for the evening.
All Day visitors must register.
Children must be accompanied by an adult who is either 18 years or older at all times.
Swimming in the river is allowed at your own risk. There is never a lifeguard on duty or on-site ever. Children must be attended at all times while swimming in the river. Life jackets are accessible for use when not interfering with daily rental activities. They must be returned to their proper location after use.
All reservations require payment in full at the time of reserving. Holiday and Special Event Weekends require a 3-Day stay.
Refunds are subject to the following conditions:
Holiday weekends or special events, NO REFUNDS will be issued.
Cancellation: see cancellation policy.
Cancellation Policy
Tent Camping:
Cancellation 60 days prior to your date of arrival will be refunded minus processing fees ($25.00) per site. After 60 days then it is non-refundable. In-house credit may be an option if someone in your party is unable to be here. This can be used for items sold at the office and must be used before the end of your stay.
RV/Bunkhouse:
Reservations are final. Since we are a seasonal business these sites fill up and are not always able to be re-booked last minute. In-house credit may be an option if someone in your party is unable to be here. This can be used for items sold at the office and must be used before the end of your stay.
Privacy Policy
Privacy Policy
Protecting your private information is our priority. This Statement of Privacy applies to niobraracamping.com and BerryBridge Resorts and governs data collection and usage. For the purposes of this Privacy Policy, unless otherwise noted, all references to Berry BridgeResorts include niobraracamping.com andBerry Bridge &Penbrook Campground. TheBerry Bridge & Penbrook Campground website is an e-commerce site. By using the Berry Bridge & Penbrook Campground website, you consent to the data practices described in this statement.
Collection of your Personal Information
In order to better provide you with products and services offered on our Site, Berry Bridge& Penbrook Campground may collect personally identifiable information, such as your:
First and Last Name
Mailing Address
E-mail Address
Phone Number
If you purchase BerryBridge & Penbrook Campground's products and services, we collect billing and credit card information. This information is used to complete the purchase transaction.
We do not collect any personal information about you unless you voluntarily provide it to us. However, you may be required to provide certain personal information to us when you elect to use certain products or services available on the Site. These may include: (a) registering for an account on our Site; (b) entering a sweepstake or contest sponsored by us or one of our partners; (c) signing up for special offers from selected third parties; (d) sending us an email message; (e) submitting your credit card or other payment information when ordering and purchasing products and services on our Site. To wit, we will use your information for, but not limited to, communicating with you in relation to services and/or products you have requested from us. We also may gather additional personal or non-personal information in the future.
Use of your Personal Information
Berry Bridge & PenbrookCampground collects and uses your personal information to operate its website(s) and deliver the services you have requested.
Berry Bridge &Penbrook Campground may also use your personally identifiable information to inform you of other products or services available from Berry Bridge& Penbrook Campground and its affiliates.
Sharing Information with Third Parties
Berry Bridge & PenbrookCampground does not sell, rent or lease its customer lists to third parties.
Berry Bridge & Penbrook Campground may share data with trusted partners to help perform
statistical analysis, send you email or postal mail, provide customer support, or arrange for deliveries. All such third parties are prohibited from using your personal information except to provide these services to Berry Bridge& Penbrook Campground, and they are required to maintain the confidentiality of your information.
Berry Bridge & Penbrook Campground may disclose your personal information, without notice, if required to do so by law or in the good faith belief that such action is necessary to: (a) conform to the edicts of the law or comply with legal process served on Berry Bridge & Penbrook Campground or the site; (b) protect and defend the rights or property of Berry Bridge & Penbrook Campground; and/or(c) act under exigent circumstances to protect the personal safety of users of Berry Bridge & Penbrook Campground, or the public.
Tracking User Behavior
Berry Bridge & PenbrookCampground may keep track of the websites and pages our users visit within Berry Bridge & Penbrook Campground, in order to determine what Berry Bridge & Penbrook Campground services are the most popular. This data is used to deliver customized content and advertising within Berry Bridge & Penbrook Campground to customers whose behavior indicates that they are interested in a particular subject area.
Automatically Collected Information
Information about your computer hardware and software may be automatically collected by Berry Bridge & Penbrook Campground. This information can include your IP address, browser type, domain names, access times, and referring website addresses. This information is used for the operation of the service, to maintain quality of the service, and to provide general statistics regarding the use of the Berry Bridge & Penbrook Campground website.
Security of your Personal Information
Berry Bridge & Penbrook Campground secures your personal information from unauthorized access, use, or disclosure. Berry Bridge & Penbrook Campground uses the following methods for this purpose:
When personal information (such as a credit card number)is transmitted to other websites, it is protected through the use of encryption, such as the Secure Sockets Layer (SSL) protocol.
We strive to take appropriate security measures to protect against unauthorized access to or alteration of your personal information. Unfortunately, no data transmission over the Internet or any wireless network can be guaranteed to be 100% secure. As a result, while we strive to protect your personal information, you acknowledge that: (a) there are security and privacy limitations inherent to the Internet which are beyond our control; and (b) security, integrity, and privacy of any and all information and data exchanged between you and us through this Site cannot be guaranteed.
Right to Deletion
Subject to certain exceptions set out below, on receipt of a verifiable request from you, we will:
Delete your personal information from our records; and
Direct any service providers to delete your personal information from their records.
Please note that we may not be able to comply with requests to delete your personal information if it is necessary to:
Complete the transaction for which the personal information was collected, fulfill the terms of a written warranty or product recall conducted in accordance with federal law, provide a good or service requested by you, or reasonably anticipated within the context of our ongoing business relationship with you, or otherwise perform a contract between you and us;
Detect security incidents, protect against malicious, deceptive, fraudulent, or illegal activity; or prosecute those responsible for that activity;
Debug to identify and repair errors that impair existing intended functionality;
Exercise free speech, ensure the right of another consumer to exercise his or her right of free speech, or exercise another right provided for by law;
Comply with the California Electronic Communications PrivacyAct;
Engage in public or peer-reviewed scientific, historical, or statistical research in the public interest that adheres to all other applicable ethics and privacy laws, when our deletion of the information is likely to render impossible or seriously impair the achievement of such research, provided we have obtained your informed consent;
Enable solely internal uses that are reasonably aligned with your expectations based on your relationship with us;
Comply with an existing legal obligation; or
Otherwise use your personal information, internally, in a lawful manner that is compatible with the context in which you provided the information.
Children Under Thirteen
Berry Bridge & Penbrook Campground does not knowingly collect personally identifiable information from children under the age of thirteen. If you are under the age of thirteen, you must ask your parent or guardian for permission to use this website.
E-mail Communications
From time to time, Berry Bridge & Penbrook Campground may contact you via email for the purpose of providing announcements, promotional offers, alerts, confirmations, surveys, and/or other general communication. In order to improve our Services, we may receive a notification when you open an email from Berry Bridge& Penbrook Campground or click on a link therein.
If you would like to stop receiving marketing or promotional communications via email from Berry Bridge &Penbrook Campground, you may opt-out of such communications by clicking on the UNSUBSCRIBE button.
Changes to this Statement
Berry Bridge &Penbrook Campground reserves the right to change this Privacy Policy from time to time. We will notify you about significant changes in the way we treat personal information by sending a notice to the primary email address specified in your account, by placing a prominent notice on our site, and/or by updating any privacy information on this page. Your continued use of the Site and/or Services available through this Site after such modifications will constitute your: (a) acknowledgment of the modified Privacy Policy; and (b) agreement to abide and be bound by that Policy.
Contact Information
Berry Bridge & Penbrook Campground welcomes your questions or comments regarding this Statement of Privacy. If you believe that Berry Bridge & Penbrook Campground has not adhered to this Statement, please contact Berry Bridge & Penbrook Campground at:
Berry Bridge Resorts
Valentine, Nebraska 69201
Email Address: [email protected]
Telephone number:
4023763474
Effective as of January 12, 2021