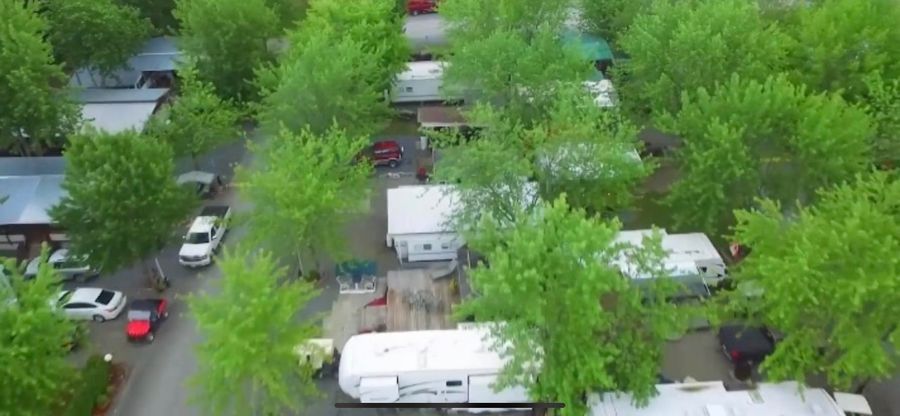 Paradis de la Petite Montagne
472 Ch. Petite Montagne Sainte-André, NB E3Y 1H4
About 8 minutes from the falls, we are the perfect place for family fun. Come and enjoy a refreshing swim in our man-made lake or have a splash coming down our waterslides. Have an adventure and test your agility on the Wibitt water inflatable course. Young and old will have so much fun that they won't want to leave! Kids will have hours of fun in our new pirate boat playground. Hungry? The snacks at Paradis de la Petite Montagne are simply must-haves for the hot season. We offer a classic snack menu with poutine, fries, hot dogs, hamburgers, and more. And to finish off your meal, you can stop by the store on the campsite to order an ice cream cone. From June 24, every Saturday morning in our activity barn we have activities for children, and every Saturday evening our activity barn turns into a dance floor with a local musician.
Whether you are traveling in your RV or prefer to pitch your tent under the stars, we are sure that you will appreciate our camping sites, its amenities, and its stunning scenery.
À environ 8 minutes des chutes, nous sommes l'endroit idéal pour s'amuser en famille. Venez profiter d'une baignade rafraîchissante dans notre lac ou faites la descente dans l'une de nos glissades d'eau. Partez à l'aventure et testez votre agilité sur le parcours aquatique gonflable Wibit. Petits et grands s'amuseront tellement qu'ils ne voudront plus repartir ! Les enfants s'en donneront à cœur joie dans notre nouvelle aire de jeux bateaux pirates. Affamé? Les casse-croûtes du Paradis de la Petite Montagne sont tout simplement des incontournables de la saison chaude. On vous propose un menu de casse-croûte classique avec de la poutine, des frites, des hot-dogs, des hamburgers et plus encore. Et pour bien terminer votre repas, vous pouvez passer au dépanneur du camping pour vous commander un cornet de crème glacée. À partir du 24 juin, tous les samedis matin dans notre grange d'activités, nous avons des activités pour enfants, et tous les samedis soir, notre grange d'activités se transforme en piste de danse avec un musicien locaux.
Que vous voyagiez en VR ou que vous préfériez planter votre tente à la belle étoile, nous sommes sûrs que vous apprécierez nos sites de camping, ses commodités et ses paysages époustouflants.
Amenities
15 Amp Service
Restroom
Dump/Sani Station
Showers
Laundry/Laundromat
Swimming Beach
Pool - Outdoor
Playground
Firewood ($)
Restaurant
Wifi
Pets Welcome
Sewer on Site
Water on Site
Big Rig Friendly
Pull-thrus
Store
30 Amp Service
50 Amp Service
20 Amp Service
Handicap Accessible
Automated External Defibrillator (AED)
Basketball
Campfire
Accepts Credit Cards
Accepts Debit Cards
Firepit On Site
Full RV Hookups
Ice ($)
Volleyball
About the Owner
Contact the property
Phone: 506-473-6683
Toll-Free: 1-844-437-6683
Policies
Le Français suit:
****MUST BE AT LEAST 25 YEARS OF AGE TO MAKE A RESERVATION. YOU MUST BE PRESENT DURING THE WHOLE STAY OF YOUR RESERVATION. ****
Upon arrival, you will be asked to agree and sign our waiver to stay in the campground and a waiver for the Wibitt challenge game in the lake. No late check-outs. Check-out is 11h00 a.m. (Atlantic time). You will be charged an extra night after 11h00 a.m. if not checked out and will need to vacate the lot. Campers are responsible for the rented campsite. In addition, it assumes full responsibility for the persons to whom it allows access. Its guests will have to pay a daily pass for the beach area. The occupants to whom the camper allows access must conduct themselves in such a way as not to disturb the other neighboring campers in the normal enjoyment of the premises.
The maximum number of camping units on a site is one (1). You will be charged extra for tents or any other unit. vehicles must be parked on lots, as we like to keep roadways clear for safety and in case of emergency. If you require additional parking, please ask the front desk.
The camper declares to rent the site for pleasure or holiday purposes only.
No smoking is allowed in any buildings on the campground and the beach area. We are a family campground, so Cannabis smoking is strictly prohibited on all grounds and buildings.
Under no circumstances can the campground be held liable for any damage or loss suffered by the camper, resulting from accidents, delays, costs incurred, injuries, death, or events resulting from fortuitous events or force majeure and beyond the control of the landlord. The landlord will not be the subject of any claim or lawsuit in court for such damages or losses.
The campground will not be held responsible for any interruption beyond its control of electricity and running water services.
The campground assumes no responsibility for damage, loss, or theft in respect of the personal belongings of the tenant and his guests.
Rental days are determined by the number of nights the site is used.
NO LIFEGUARD ON DUTY. Pool and Playground open at 10h00 a.m. and close at 9 p.m. or at dusk. CHILDREN MUST BE SUPERVISED AT ALL TIMES IN THE BEACH AREA, THE PLAYGROUND, AND IN THE CAMPGROUND. LIFE JACKETS ARE MANDATORY ON THE INFLATABLE WIBITT OBSTACLE COURSE.
Quiet time is from 11h00 P.M. to 8h00 A.M. People not following this rule will be warned once and then asked to leave without a refund. Activities in the activity barn may result in loud noise like bands, karaoke, etc… Everyone is welcome to attend except for seasonal camper's meetings.
Fires must be in fire rings only.
Please do not park your vehicle, trailer, or other in an adjacent site. Use of more than one site will result in additional charges.
Pets must be always on a leash. Please clean up after your pet. Do not let your pet deposit waste on your site or any of our other guests' sites, please. Excessive barking is not tolerated and disturbs your neighbors. Pets are not allowed around the beach area. They must be kept on the grass close to the playground. Keep in mind some children and adults are either allergic to animals or are afraid of them.
The Park speed limit is 5 MPH. This policy is to keep you and your children safe. A person without a full driver's license is not allowed to drive in the park or beach area with a car, golf cart, ATV, etc…
Dumpsters are in the bottom on each side of the campground and one in the back of the office. Please tie bags completely closed and put your trash completely in the dumpster.
For the comfort of all our guests, restrooms are open 24/7 except for a temporary closing for cleaning several times per day. We ask for your help in keeping the restrooms clean, please. Children must be supervised.
The laundry room is in the back of the washrooms. Change and laundry products are available at the office. Please do not leave laundry unattended. We are not responsible for accidents or theft.
If you observe any activity you believe to be of concern, call our toll-free number 1-844-437-6683. (24 hours a day)
If you need to call 911 for any reason, and time allows, please call the office so the staff can be prepared to escort the emergency personnel to your site.
Enjoy your stay and please do not disturb the enjoyment of the rest of your fellow campers.
Thank-You for choosing Paradis de la Petite Montagne for your vacation!
****DOIT AVOIR AU MOINS 25 ANS POUR FAIRE UNE RÉSERVATION. VOUS DEVEZ ÊTRE PRÉSENT PENDANT TOUT LE SÉJOUR DE VOTRE RÉSERVATION. ****
À votre arrivée, il vous sera demandé d'accepter et de signer notre renonciation pour rester dans le camping et une renonciation pour le jeu Wibitt Challenge dans le lac. Pas de départs tardifs. Check-out est 11h00 a.m. (heure de l'Atlantique). Vous serez facturé une nuit supplémentaire après 11h00 a.m. (heure de l'Atlantique) si vous n'êtes pas sortie du lot et vous devrez quitter le lot. Les campeurs sont responsables du camping loué. Les campeurs sont responsables du camping loué. En outre, il assume l'entière responsabilité des personnes auxquelles il permet l'accès. Ses visiteurs devront payer pour un laissez-passer quotidien pour la zone de plage. Les occupants auxquels le camping-car permet l'accès doivent se comporter de manière à ne pas déranger les autres campeurs voisins.
Le nombre maximum d'unités de camping sur un site est d'un (1). Vous serez facturé en supplément pour les tentes ou toute autre unité. Le campeur déclare louer le site à des fins de plaisir ou de vacances seulement.
En aucun cas, le terrain de camping ne peut être tenu responsable de tout dommage ou perte subie par le campeur, résultant d'accidents, de retards, de coûts encourus, de blessures, de décès ou d'événements résultant d'événements fortuits ou de force majeure et indépendants de la volonté du propriétaire. Le locateur ne fera l'objet d'aucune réclamation ou poursuite devant un tribunal pour de tels dommages ou pertes.
Le terrain de camping ne sera pas tenu responsable de toute interruption indépendante de sa volonté des services d'électricité et d'eau courante. Le terrain de camping n'assume aucune responsabilité pour les dommages, la perte ou le vol à l'égard des effets personnels du locataire et de ses invités. Les jours de location sont déterminés par le nombre de nuits d'utilisation du site.
PAS DE SAUVETEUR EN SERVICE. Piscine et aire de jeux ouverts à 10h00 a.m. et ferme à 21h00 p.m. ou au crépuscule. LES ENFANTS DOIVENT ÊTRE SURVEILLÉS EN TOUT TEMPS DANS LA PLAGE, L'AIRE DE JEUX ET LE TERRAIN DE CAMPING. LES GILETS DE SAUVETAGE SONT OBLIGATOIRES SUR LE PARCOURS D'OBSTACLES GONFLABLE WIBITT.
Le temps calme est de 11h00 P.M. à 8h00 A.M. Les personnes qui ne suivent pas cette règle seront averties une fois puis invitées à partir sans remboursement. Les activités dans la grange d'activités peuvent entraîner un bruit fort comme des groupes, du karaoké, etc. Tout le monde est invité à y assister, à l'exception des réunions de campeurs saisonniers.
Les feux doivent être dans des anneaux de feu seulement.
Veuillez ne pas garer votre véhicule, remorque ou autre sur un site adjacent. L'utilisation de plus d'un site entraînera des frais supplémentaires. Les animaux de compagnie doivent être tenus en laisse en tout temps. S'il vous plaît nettoyer après votre animal de compagnie. Ne laissez pas votre animal de compagnie déposer des déchets sur votre site ou sur l'un des sites de nos autres clients, s'il vous plaît. Les aboiements excessifs ne sont pas tolérés et dérangent vos voisins. Les animaux domestiques ne sont pas admis autour de la plage. Ils doivent être conservés sur l'herbe non près de l'aire de jeux. Gardez à l'esprit que certains enfants et adultes sont allergiques aux animaux ou en ont peur.
La limite de vitesse du parc est de 5 MPH. Cette politique vise à assurer votre sécurité et celle de vos enfants. Une personne sans permis de conduire complet n'est pas autorisée à conduire dans le parc ou la plage avec une voiture, une voiturette de golf, un VTT, etc.
Les bennes à ordures sont situées dans le fond de chaque côté du terrain de camping et une à l'arrière du bureau. Veuillez attacher les sacs complètement fermés et mettre vos déchets complètement dans la benne à ordures.
Pour le confort de tous nos clients, les toilettes sont ouvertes 24h/24, à l'exception d'une fermeture temporaire pour le nettoyage plusieurs fois par jour. Nous vous demandons votre aide pour garder les toilettes propres, s'il vous plaît. Les enfants doivent être surveillés.
La buanderie est située à l'arrière des toilettes. Des produits de change et de lessive sont disponibles au bureau. Veuillez ne pas laisser le linge sans surveillance. Nous ne sommes pas responsables des accidents ou des vols.
Si vous observez une activité que vous croyez préoccupante, appelez notre numéro sans frais 1-844-437-6683. (24 heures sur 24)
Si vous devez appeler le 911 pour quelque raison que ce soit, et que le temps le permet, veuillez appeler le bureau afin que le personnel puisse être prêt à escorter le personnel d'urgence jusqu'à votre site.
Profitez de votre séjour et s'il vous plaît ne pas déranger le plaisir du reste des campeurs.
Merci d'avoir choisi Paradis de la Petite Montagne pour vos vacances!
Cancellation Policy
Le Français suit:
Cabins: Cancellations made 72 hours before arrival will incur a $35.00 per night +taxes cancellation fee.
Cancellations made less than 72 hours before arrival will be non-refundable.
Camping: Cancellations made 72 hours before arrival will incur a
$ 10+ taxes cancellation fee.
* Cancellations made less than 72 hours before arrival will incur a fee of one night's stay.
Cabines : les annulations effectuées 72 heures avant l'arrivée entraîneront des frais d'annulation de 35,00+taxes $ par nuit.
Les annulations faites moins de 72 heures avant l'arrivée ne seront pas remboursables.
Camping : Les annulations effectuées 72 heures avant l'arrivée entraîneront une Frais d'annulation de 10+taxes $.
* Les annulations effectuées moins de 72 heures avant l'arrivée entraîneront des frais d'une nuitée.
Privacy Policy
Le Français suit
"Protecting your privacy is very important to us.
We will never provide your personal information to any outside sources or use any email provided for unsolicited mail. Any emails received by Silverline Resort or CampgroundBooking.com will be in connection with the products and services agreed to and provided."
"Your privacy is important to us. To better protect your privacy we provide this notice explaining our online information practices and the choices you can make about the way your information is collected and used at our site.
The Information We Collect: You provide specific personal information during the making of reservations and/or the purchase of goods and/or services from our RV Park & Campground. The information includes your name, address, e-mail address, telephone number, payment information, and your interest in specific types of products and/or services.
How We Use The Information: We use the information you provide about yourself to fulfill your order for our goods and/or services and to respond to your inquiries about your upcoming stay and/or goods purchased. From time to time we may also send you additional information about our RV Park & Campground and/or services in special promotional mailings. If you wish to be removed from our mailing at any time, please call 844-437-6683.
We may disclose personal information in response to legal processes (e.g. in response to a court order or subpoena). We also may disclose such information in response to a law enforcement agency's request. And finally, we may disclose personal information in response to a charge-back inquiry from our merchant bank about your payment for goods and/or services.
We will not sell or transfer personally identifiable information provided to us to parties outside of our company except as described above. Collection of Information by Third-Party Sites. Our site may contain links to other sites whose information practices may be different than ours. Visitors should consult the other sites' privacy notices as we have no control over information that is submitted to, or collected by these third parties."
"Protéger votre vie privée est très important pour nous. Nous ne fournirons jamais vos informations personnelles à des sources extérieures ou n'utiliserons aucun e-mail fourni pour le courrier non sollicité. Tous les e-mails reçus par Silverline Resort ou CampgroundBooking.com seront en relation avec les produits et services convenus et fournis." "Votre vie privée est importante pour nous. Pour mieux protéger votre vie privée, nous fournissons cet avis expliquant nos pratiques d'information en ligne et les choix que vous pouvez faire sur la façon dont vos informations sont collectées et utilisées sur notre site. Les informations que nous collectons : vous fournissez des informations personnelles spécifiques lors de la réservation et/ou de l'achat de biens et/ou de services dans notre terrain de camping et VR. Les informations comprennent votre nom, adresse, adresse e-mail, numéro de téléphone, informations de paiement et votre intérêt pour des types spécifiques de produits et/ou services. Comment nous utilisons les informations : Nous utilisons les informations que vous fournissez sur vous-même pour exécuter votre commande de nos biens et/ou services et pour répondre à vos demandes concernant votre prochain séjour et/ou les biens achetés. De temps à autre, nous pouvons également vous envoyer des informations supplémentaires sur notre RV Park & Campground et/ou nos services dans des envois promotionnels spéciaux. Si vous souhaitez être retiré de notre envoi à tout moment, veuillez appeler le 844-437-6683. Nous pouvons divulguer des informations personnelles en réponse à des procédures judiciaires (par exemple, en réponse à une ordonnance d'un tribunal ou à une citation à comparaître). Nous pouvons également divulguer ces informations en réponse à la demande d'un organisme chargé de l'application de la loi. Enfin, nous pouvons divulguer des informations personnelles en réponse à une demande de rétrofacturation de notre banque d'affaires concernant votre paiement de biens et/ou de services. Nous ne vendrons ni ne transférerons les informations personnellement identifiables qui nous sont fournies à des parties extérieures à notre société, sauf comme décrit ci-dessus. Collecte d'informations par des sites tiers. Notre site peut contenir des liens vers d'autres sites dont les pratiques d'information peuvent être différentes des nôtres. Les visiteurs doivent consulter les avis de confidentialité des autres sites car nous n'avons aucun contrôle sur les informations soumises ou collectées par ces tiers.