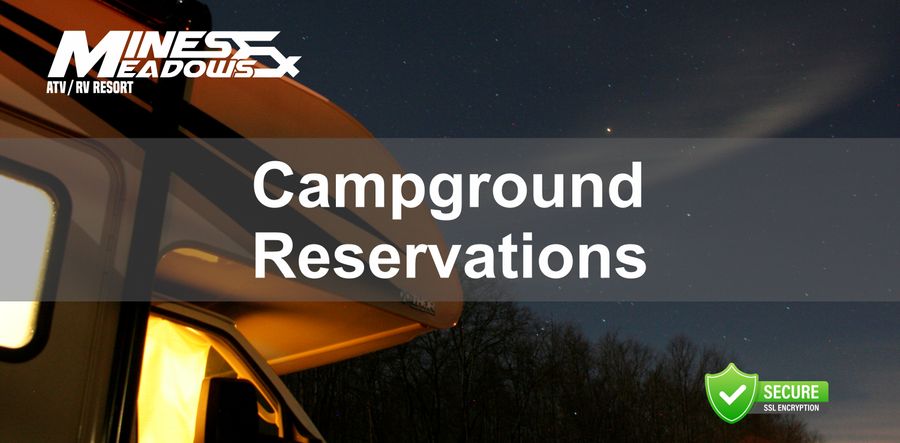 Mines and Meadows ATV and RV Resort
1307 Old Route 18 Wampum, PA 16157
Open 8/21/23 - 11/24/23
Open 12/10/23 - 3/31/24
Open 4/26/24 - 11/22/24
58 Sites
WATER HOOK UPS ARE NOT GUARANTEED DURING THE COLDER MONTHS. YOU WILL BE ABLE TO FILL YOUR TANK AT THE OFFICE/QUAD WASH IF NEEDED.
PA Law states you cannot bring firewood across state lines. You must also burn all firewood purchased before you leave. The only exception is Kiln dried wood. **
Mines & Meadows now offers a complete selection of camping options ranging from non-electric camping sites for a single night to annual RV park leases. Weekly, monthly and seasonal rates are also available.
Amenities
ATV/Off-Road Trail
20 Amp Service
30 Amp Service
50 Amp Service
Accepts Credit Cards
Pets Allowed
Playground
Restroom
Wifi
Campfire
Pull-thrus
Campground Information
| | |
| --- | --- |
| Seasonal Sites | 21 |
| Camping Rates | Nightly Rates range from $25-$70 depending on the day of the week and holidays. |
| Room Rates | Lodging rates range from $125-$175 depending on the time of year. |
| Max Length (of RV) | 60 ft |
About the Owner
Contact the property
Phone: 724-535-6026 Ext 101
Policies
Mines & Meadows Resort RV Park Rules
It is Prohibited in the State of Pennsylvania to drive ATV's & Dirt Bikes on the Roadway. Violators will be Prosecuted to the Fullest Extent of the Law and Banned from the Facility Indefinitely.
Check-in time is 1:00 pm & Check-Out time is 12:00 pm. There is a 2 night minimum when renting the cottage.
All resort guests and visitors MUST REGISTER at the park office upon arrival.
All late arrivals must have their WAIVERS filled out and register at the office in the morning. Maximum occupancy per site: 6 persons.
• Speed limit of 5 mph will be strictly enforced within the RV park area to control dust and for guest safety. Speeding, racing, revving of motors, spinning, doughnuts or any destruction of property will not be tolerated. ALL RIDERS MUST WEAR THEIR HELMETS WHEN IN MOTION.
Quiet hours are from 11 p.m. until 8 am. No loud or disruptive noise of any kind. Rowdiness, loud music, abusive language, drunkenness, and possession or use of drugs will not be tolerated at any time.
We reserve the right to remove any persons who cannot follow the rules or who displays inappropriate behavior.
• Only two pets are allowed per site.
All pets must be on leashes at all times, not left unattended at campsites and must be cleaned up after by their owners.
Noisy, vicious or unruly animals must be removed from the resort immediately.
No pets are allowed in the office or other resort buildings.
• A two-car maximum is allowed per site. Parking is limited to your own site, extra vehicles must be parked in the designated lot. In case of an emergency, our staff is authorized to move any RV equipment or vehicles without notice or liability. NO QUAD WASHING IS PERMITTED AT CAMPSITES !!! Doing so causes our campsites to become mud holes. We have a quad wash at the OFFICE area that you can use for $ 5.00 per vehicle.
• Do not move fire rings or picnic tables. Campfires must be in designated fire rings only. Campfires must not be left unattended and must be extinguished before retiring. Do not place or attempt to burn garbage in the fire rings. On occasion fires may be prohibited by our staff due to hazardous fire conditions. Do not remove trees. Trees removed will be at your expense. Do not take cut firewood from other sites or the grounds.
• Alcoholic beverages are permitted at YOUR CAMPSITE ONLY !!! Our park is a FAMILY ORIENTED Resort. Please drink responsibly. Excessive public intoxication, underage drinking, or drug use will be reported to the police, and offenders will be banned from the resort without refund.
THERE IS ABSOLUTELY NO DRINKING OF ALCOHOLIC BEVERAGES ON THE TRAIL SYSTEM WHILE OPERATING YOUR ATV OR MOTORCYCLE OR RIDING AS A PASSENGER. ABSOLUTELY NO CONSUMPTION OF ALCOHOL PRIOR TO OR DURING OPERATING AN ALL-TERRAIN VEHICLE OR MOTORCYCLE. A DRIVER WILL BE CHARGED FOR DRIVING UNDER THE INFLUENCE, NO MATTER WHAT THE BLOOD ALCOHOL LEVEL. WE HAVE A ZERO TOLERANCE LIMIT AND EVEN A SMALL AMOUNT OF ALCOHOL CAN LEAD TO AN ARREST. If you get caught breaking this rule, you will be banned from any future admittance to this facility.
• ANNUAL Leases have the privilege of sharing their resort with a guest of their choice under the following conditions: the lessee must be present here and must take full responsibility for their guest; the charge for staying overnight as a guest of a lessee is $5.00 per adult or $2.00 per child under 18
•No non-paying guests are permitted in the park after 10:00pm; an adult lessee must accompany guests under 18 years of age; WAIVERS MUST BE COMPLETED BY ALL GUESTS. NO ONE IS ALLOWED ON PROPERTY WITHOUT FILLING OUT OUR CONSENT WAIVER. If any guest would like to ride our trail system, they must come to the office and purchase a riding pass BEFORE heading out onto trails.
• Sites must be kept clean and free from clutter at all times. Lessee is responsible for keeping their lot neat. THERE ARE DUMPSTERS PROVIDED FOR YOUR GARBAGE THAT IS GENERATED AT OUR RESORT. Please put ALL garbage in our dumpsters, campsites need to be left free and CLEAN of all garbage before you leave. All property must be kept within the confines of assigned space. Parking on access roads is prohibited. Please respect the privacy of fellow guests -- do not walk through occupied sites.
• While our park does not currently have a dump station, you can dispose of grey and black water at the New Castle Sewage Authority located north of the park on Route 18. Please call them in advance at (724) 654-4664. There is no charge for dumping.
• Absolutely no firearms, fireworks, explosives, or weapons of any kind are permitted within any RV, vehicle of any kind, or on anyone's person. All federal, state, and local laws must be obeyed at all times.
All signs, posted notices and directions of the park management must be obeyed.
Noncompliance may result in immediate loss of privileges.
• Mines & Meadows reserves the right to refuse service to any guest including returning guests that have violated our rules and regulations and or have vacated the park without paying all fees.
Occupants and their vehicles may be removed without a judicial hearing by law enforcement officers upon 72 hours written notice for failure to pay full amount of space rental when due or for failure to comply with the written rules and regulations of the Park.
ABSOLUTELY NO RIDING IS PERMITTED AFTER DARK !!!!!
Park and Trail Rules Policy
PLEASE READ THIS BEFORE BOOKING!
1. ALWAYS wear your safety equipment; obey State, Federal and Manufacturer laws and regulations. DOT or SNELL approved HELMETS and PROTECTIVE EYE WEAR MUST BE WORN AT ALL TIMES!!
2. Travel is permitted on designated, blazed routes only. Off-trail travel may damage natural resources or pose a safety hazard to other users. Be aware of oncoming riders. Obey all signs, gates, barriers and security personnel. Do not ride off of Mines & Meadows property. Only enter and exit the trail systems at a designated trailhead.
3. SPEEDS IN EXCESS of 25 MPH are PROHIBITED. Pay close attention to bends and pitches in the trail, and maintain speeds reasonable for conditions.
4. All children under the age of 16 must have direct adult supervision. Youngsters age 8 to 15 must complete a certified ATV training class before operating an ATV in PA. Children under the age of 8 are not permitted to operate an ATV
5. No one under the age of 5 is permitted to ride the trails.
6. ATV Registration and insurance is required under PA Law. Out-Of-State registrations are honored for all states that have reciprocity with Pennsylvania. PA registration applications can be obtained by calling the PA DCNR Snowmobile/ ATV Unit at (717) 783-9227.
7. Riders must check-in at the office. All riders must purchase either a yearly Gold Club Pass or a single use Day Pass, and have their wristband displayed on their person at all times.
8. Everyone must sign a Waiver before entering the property.
9. ATV's must have a properly functioning muffler (no racing mufflers) and USFS approved spark arrestor (99 decibel maximum).
10. No alcoholic beverages may be consumed or carried while in the park.
11. No glass containers are allowed and please clean up all litter and trash.
12. No weapons of any kind are permitted in the park.
13. Permits for camping must be obtained at the park office. Campfires are allowed for campers only and must remain in the designated area. Fire rings are not to be moved.
14. NO RIDING AFTER SUN DOWN ! ! Trails are open from 9:00 am till sunset.
15. DO NOT GET STUCK by yourself! We do not have a way to get you out. It is not advised to ride without a winch. Violators of any above listed rules will be asked to leave with no refund.
We reserve the right to EXCLUDE any rider for any inappropriate behaviors. Serious rule-breakers will be BLACK FLAGGED and not be permitted to ride at Mines and Meadows again. STAY OFF GRASS, any destruction of grass/lawn area is grounds for ejection from the park. Owner reserves the right to change the rules without notice. Mines and Meadows complies with all provisions of the Pennsylvania All-Terrain Vehicle Law.
Cancellation Policy
Cancellation Policy
PLEASE READ THIS BEFORE BOOKING!
· You will be billed $80.00 service fee automatically upon booking your site and purchasing of your day riding passes. This is non-refundable.
· Weather is unpredictable. Refunds are not issued for rain, snow, heat, cold, wind, or other natural causes.
· Refunds are NOT issued for early departures, regardless of the reason.
· ALL cancellations are subject to a $80 service fee.
· 14 days prior to your arrival the remaining balance of your invoice will be automatically debited and your stay will be paid in full. Cancellations must be made 14 or more days prior to the first day of your reservation in order to not automatically be billed. (All cancellations are subject to the previous mentioned $80 service fee).
· If you cancel within 14 days of your reservation, there is a NO REFUND POLICY! This includes no-shows (if you do not show up for your reservation your payment is forfeited).
· Sites are assigned by Mines and Meadows, LLC prior to arrival unless you pay the $10 site hold fee.
· Returned checks are subject to a $25 service charge, plus Pennsylvania's State allowed fees.
· Mines and Meadows, LLC's Park is privately owned. Management reserves the right to refuse entry to anyone and/or terminate a reservation at any time.
COVID-19 (Coronavirus) - All of the above cancellation policies apply, if you are to cancel your reservation. If the park is unable to open, due to COVID-19 circumstances, all guests will be notified and full refunds will be issued.
Privacy Policy
This privacy policy discloses the privacy practices for Mines and Meadows, LLC and www.minesandmeadows.com . This privacy policy applies solely to information collected by this website.
Mines and Meadows, LLC is committed to protecting your privacy and developing technology that gives you the most powerful and safe online experience. This Privacy Policy applies to the Mines and Meadows, LLC's website and governs data collection and usage. By using our website, you consent to the data practices described in this policy.
Collection of your Personal Information
We collect personally identifiable information, such as your email address, name, home or work address or telephone number. We also collect anonymous demographic information, which is not unique to you, such as your zipcode, age, gender, preferences, interests and favorites.
There is also information about your computer hardware and software that is automatically collected by us. This information can include: your IP address, browser type, domain names, access times and referring website addresses. This information is used by us for the operation of the service, to maintain quality of the service, and to provide general statistics regarding use of our website.
Use of your Personal Information
Mines and Meadows, LLC and its website(s) uses your personal information to operate our website and deliver the services you have requested. We also may use your personally identifiable information to inform you of other products or services available from us. We may also contact you via surveys to conduct research about your opinion of current services or of potential new services that may be offered.
We do not sell, rent or lease our customer list to third parties. In addition, we may share data with trusted partners to help us perform statistical analysis, send you email or postal mail, provide customer support, or arrange for deliveries. All such third parties are prohibited from using your personal information except to provide these services to us, and they are required to maintain the confidentiality of your information.
We do not use or disclose sensitive personal information, such as race, religion, or political affiliations, without your explicit consent.
We keep track of the website and pages our customers visit, in order to determine what services are the most popular.
Mines and Meadows, LLC will disclose your personal information, without notice, only if required to do so by law or in the good faith belief that such action is necessary to: (a) conform to the edicts of the law or comply with legal process served on or the site; (b) protect and defend the rights or property of; and, (c) act under exigent circumstances to protect the personal safety of users of, or the public.
Use of Cookies
We use "cookies" on this site. A cookie is a piece of data stored on a site visitor's hard drive to help us improve your access to our site and identify repeat visitors to our site. For instance, when we use a cookie to identify you, you would not have to log in a password more than once,
thereby saving time while on our site. Cookies can also enable us to track and target the interests of our users to enhance the experience on our site. Usage of a cookie is in no way linked to any personally identifiable information on our site.
You have the ability to accept or decline cookies. Most web browsers automatically accept cookies, but you can usually modify your browser setting to decline cookies if you prefer. If you choose to decline cookies, you may not be able to fully experience the features of our website.
Third Party Cookies
Our website will set several types of third-party cookie, and we do not control the operation of any of them. The third-party cookies which may be set include
· Google Analytics – we use Google Analytics to collect data about website usage. This data does not include personally identifiable information. You can view the Google Privacy Policy here: www.google.com/policies/privacy/
· Facebook – we use a Facebook pixel to obtain information regarding the activities that users engage in while visiting our web pages. For information on Facebook's Privacy and Cookie policy, visit https://www.facebook.com/policies/cookies/
You can block cookies by activating the setting on your browser that allows you to refuse the setting of all or some cookies. However, if you use your browser settings to block all cookies (including essential cookies) you may not be able to access all or parts of our site.
Links
This website contains links to other sites. Please be aware that we are not responsible for the content or privacy practices of such other sites. We encourage our users to be aware when they leave our site and to read the privacy statements of any other site that collects personally identifiable information.
Security of your Personal Information
Mines and Meadows, LLC and its website(s) secures your personal information from unauthorized access, use or disclosure. We secure the personally identifiable information you provide on computer servers in a controlled, secure environment, protected from unauthorized access, use or disclosure. When personal information (such as a credit card number) is transmitted to other websites, it is protected through the use of encryption, such as the Secure Socket Layer (SSL) protocol. This information is used for billing purposes and to fill your orders. If we have trouble processing an order, we'll use this information to contact you. We also protect your information offline. Only employees who need the information to perform a specific job (for example, billing or customer service) are granted access to personally identifiable information. The computers/servers in which we store personally identifiable information are kept in a secure environment.
Changes to this Privacy Policy
Our Privacy Policy may change from time to time and all updates will be posted on this page. If you feel that we are not abiding by this privacy policy, you should contact us immediately via telephone at 724-535-6026 or via email at [email protected]