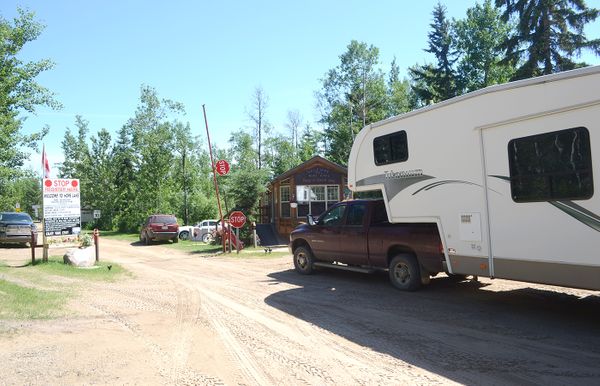 Reservations open on Mar 1, 2023 8:00 AM MST
Powered by
Good Sam
Hope Lake Campground
SW-34-65-18-W4 Boyle, Alberta T0A 0M0
Enjoy one of 53 unserviced campsites at beautiful Hope Lake. The campground includes a RV dump, ATV compound, boat launch, group area, and marked swimming area next to the sandy beach. Try your luck with the fish, or just enjoy a peaceful canoe ride. Non-potable well water and firewood for sale ensure you have everything you need for a great stay.
Amenities
Beach
Playground
Day Use Area
Office
Boat Ramp/Launch
Boat Slip
Fishing
Swimming Beach
Campground Information
| | |
| --- | --- |
| Seasonal Sites | 18 |
| Camping Rates | $25.00/night $10.00 Day Use fee $5.00 Boat Launch fee $200.00/night Group site fee |
| Max Length (of RV) | 60 ft |
About the Owner
Contact the property
Phone: 780-689-0501
Fax: (780) 675-5512
Policies
1. Seasonal Bookings:
"Seasonal" shall be defined as an authorized booking from mid-May (approximately) through to September 30 for an individual campsite without additional services.
Seasonal applications must be requested through the Athabasca County Administration Office, and such requests may be made commencing the first working day of January and will be received until the last working day of January of the camping year; during regular business hours.
For more information regarding Seasonal Camping please visit our website: https://athabascacounty.com/seasonal-camping/
2. Other Reservations:
a) Reservations must be made online. The online registration system will open at 8:00 a.m. on the first working day of March. Campers must provide the following in order to make a reservation:
• Arrival and departure dates.
• Name.
• Telephone number.
• Type and size of camping unit (i.e. tent, tent trailer, travel trailer, motorhome, etc.).
b) Full payment of the entire campsite fees for all bookings will be required.
c) Failure to check in by 9:00 p.m. or give notice to late check-in on the first night of reservation will result in the forfeiture of any current or future right to the reservation and campsites will be made available for booking using the online system.
3. Group Camping:
a) Reservations for Group campsites at Hope Lake Campground will commence at 8:00 a.m. on the first working day of March of the camping year during regular business hours. Group bookings must be made online.
GENERAL REGULATIONS
a) No accessory structures or site alterations are permitted on any campsite.
b) Guaranteed check-in time is 4:00 p.m.; checkout time is 2:00 p.m.
c) Quiet time is between the hours of 11:00 p.m. to 7:00 a.m.
d) Maximum occupancy shall be fourteen (14) consecutive days in each campsite
e) A maximum of six (6) adults and their dependent children may occupy a campsite.
f) Firewood is available for purchase at a cost of $8.00 per 1.5 cubic foot (approximate) bundle from the Campground Manager.
CAMPING FEES
1. Individual Campsites:
A $7.00 booking fee is charged for all campground bookings using the online booking system. This fee is non-refundable when requesting a cancellation.
a) A nightly fee of $25.00 will be charged at Hope Lake Campground.
b) Fee for a second unit in a campsite will be $15.00/unit/night. All units must be on the campsite. A second unit will only be permitted if the Campground Manager determines that the campsite has capacity for a second unit. Small tents used as part of an immediate family unit with no additional vehicles are exempt.
c) Each campsite shall be allowed two (2) vehicles. Each additional vehicle will be charged a $5.00 per day fee and shall park in designated public parking lots.
2. Group Campsites:
a) Available at a rate of $200.00 per night.
b) Up to thirteen (13) camping accommodation units. $10.00 for each additional unit/night. Group campsite fees must be paid in full at the time of booking.
3. Seasonal Bookings:
a) Available approximately mid­ May to September 30:
• $1,800.00 for residents living within Athabasca County boundaries.
• $2,200.00 for residents living outside of Athabasca County boundaries.
4. Season / Day Pass:
a) Passes can be purchased at the Athabasca County Administration Office or the Campground Manager for a seasonal rate of $30.00 for one (1) vehicle or $40.00 for two (2) vehicles (family pass).
b) Season day passes are good for any day use area or boat launch operated by Athabasca County.
c) Season day passes must be displayed prominently in your vehicle when in use.
d) A day use fee of $10.00 per vehicle per day will be charged.
e) A boat launch fee of $5.00 per launch will be charged.
Cancellation Policy
Cancellations will be allowed up to 3 working days before the date of camping. The $7.00 online booking fee is non-refundable when requesting a cancellation. Campers will be required to call the Athabasca County Administration Office or Campground Manager to request a cancellation.
Privacy Policy
Athabasca County is committed to respecting the privacy of all its customers and to protecting all data about customers from outside parties. We do not sell, trade, rent or otherwise share your personal information with third parties without your consent. We may use personal data collected to communicate with you during your stay with us.