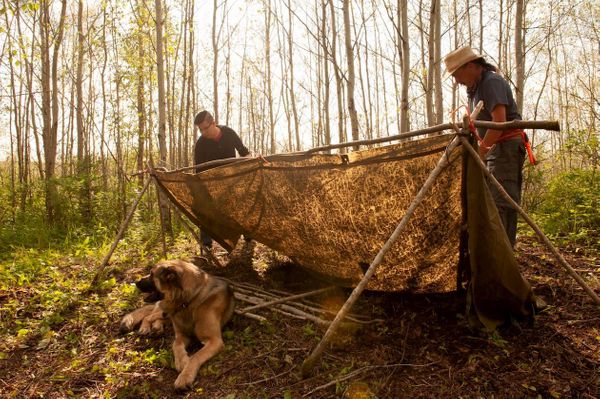 Reservations open on Jan 1, 2023 9:00 AM MST
Powered by
Good Sam
Hideaway Adventure Grounds
14132 TWP RD 624 SW 26-62-14-West of 4th Smoky Lake County, AB T0A 2B0
Hideaway Adventure Grounds is an Authentic Family rustic camping experience on the Kikino Metis Settlement, located 2 hours Northeast of Edmonton, Alberta, Canada. ​
We offer back-to-the-basics, self-contained camping; no power, no water, no wifi but we have lots of stars and sounds of the forest! We also offer Canvas Wall Tent Camping which are on decks platforms and include a heater, beds and bottled water for added comfort. Sites are well treed for your enjoyment around your fire pit and sitting at the picnic table. During your stay with us you can learn to build a shelter, find food and water, perfect your fire building techniques, cook on an open fire and use traditional tools.
Explore the wildness of this mixed aspen forest property with your personal guide, John Ritchie. This small campground is perfect for a family gathering, a day time workshop retreat or a quiet night, or two, in the country.
Join us and experience the hospitality of this Métis community and share in the rich stories of the Métis People. History-rich attractions are within easy day trips.
Discover places like Métis Crossing, the Lac La Biche Mission or take in local pow-wows. Later you can taste bannock you prepare over an open fire and listen to stories from the past that hold lessons in the telling.
​We also offer a variety of workshops through the year, so you can join us for a day or stay a few days and hear stories from the land, meet wildlife and gain an understanding of nature.
About the Owner
Contact the property
Policies
1. Check‐out is at 11:00 am. Check‐in starts at 1:00 pm
2. Quiet time is from 10:00 pm to 8:30 am. Excessive noise is not permitted. Please
remember that sound travels further in open air, especially music and loud talking.
3. The main gates may be closed during the day and/or night for the safety and
security of our campers.
4. Generator use is only permitted between 8.30 am ‐10.30 am and 6 pm – 8 pm. The
use of "inverted generators" (i.e. Low Noise) are preferred. Generators must be
placed on designated campsite pads and not in the surrounding vegetation and
beach.
5. A maximum of four adults is allowed per campsite. All children 15 years old and
younger must be accompanied by an adult.
6. All vehicles must be within each site's boundary. No parking at all on the roadway.
Cancellation Policy
Cancellations made more than 7 days prior to Check‐In Date, all camping fees (reservation
fees) are refunded.
Cancellations made within 7 days to 1 day prior to Check‐In Date, 1 night's camping fee
forfeited, remaining (less reservation fees) refunded.
Cancellations made the day of arrival, 2 night's camping fee forfeited, remaining (less
reservation fees) refunded.
Privacy Policy
I give permission to Nomad Reservations, LLC and Hideaway Adventure Grounds to
collect my personal data, being my name and contact information, as it relates to my
reservation for camping with Hideaway Adventure Grounds. Further I recognize that my
data will be stored on Nomad Reservations, LLC secure servers within the United States and
will not be used for any purpose, other than that being used for reservation of a camping
spot.