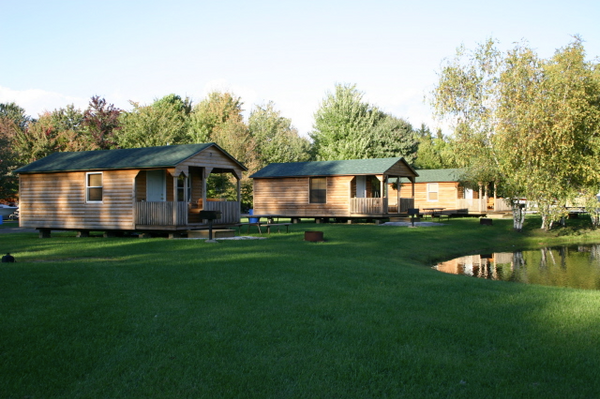 Evergreen Lake Park
703 Center Rd Conneaut, OH 44030
Open 4/29/22 - 10/16/22
Open 5/1/23 - 10/15/23
Open 5/1/24 - 10/13/24
295 Sites
Our campground boasts over 70 acres of mostly wooded beautiful countryside. We invite you to take in the smell of a campfire at Evergreen Lake Park Campground and enjoy the cool breeze as it makes its way across Conneaut, Ohio reminding you that Lake Erie is just minutes away.
Our Ohio campground has two large ponds for swimming and fishing. With over 250 campsites, of all shapes and sizes, we've got you covered. All of our sites (except the primitive tent sites) are equipped with water and electric. Many of our sites offer a full hookup. We also offer pull thru sites that can handle the big rigs.
We know that flexibility is important for our campers. At Evergreen Lake Park, there are a variety of campsite rental options. You can rent your site through the day, week, month, or stay with us for the season and enjoy our many planned activities.
There is NO charge for swimming or use of our many amenities including the playgrounds, basketball court, sand volleyball court and mini-golf course.
We have places for bike riding, fishing without license, and pets are accepted on a leash. We also have a fenced in dog run for our guests to enjoy!
In our main building we have a place for parties and dancing. There is an outdoor fireplace, seating, pool tables, and video games. This is a great place to meet and make new friends. We also offer covered shelters and recreational activities for young and old, alike.
Amenities
Swimming Beach
Boat Slip
Firepit On Site
Showers
Wifi
Playground
Mini Golf
Firewood ($)
Dog Park
Full RV Hookups
Snack Bar
Dump/Sani Station
Pets Welcome
Propane ($)
Lodging/Campground Information
| | |
| --- | --- |
| Seasonal Sites | 215 |
| Max Length (of RV) | 45 ft |
About the Owner
Contact the property
Policies
CHECK-IN & CHECK-OUT
· All campers, guests and visitors must register at the office upon arrival.
· Proof of ID is required at check-in
· Check-in time is 1:00 PM for campsites and 3:00 PM for cabin rentals. Check-in before 8pm unless other arrangements have been made in advance with campground office.
· Check-out time is 12:00 PM for both campsites and cabin rentals.
CAMPGROUND RULES AND POLICIES
Speed Limit 5 MPH from the Dog Park and throughout the park and 10 MPH from Center Rd to the Dog Park. Repeated violators will be told to leave. This includes golf carts! Please drive slowly and watch out for children.
Visitor Policy: All visitors must register & pay at the office and know the camping courtesies. Campers are responsible for their guests.
All vehicles must have a valid car pass displayed at all times while in the campground. NO PARKING on the grass, on or around the lakefront or playground. Vehicles only to be driven in and out of park to site. No driving around. No washing of cars, boats, or any excess us of water. Electric vehicles are prohibited from using electric boxes.
Dogs are welcomed, but please make sure to keep them on a leash at all times and clean up after them. Do not leave dogs unattended at your campsite when you leave. No dogs in the swimming lake. Please leave whining and barking dogs at home.
Motorized Vehicles (golf carts, scooters, etc.) speed limit applies to these vehicles as well! Please drive slowly and watch out for children. Drivers must have a valid license and insurance.
Electric golf carts only.
No golf carts on playground.
Children under 18 are the responsibility of their parents or guardian at all times and need to return to their campsite at curfew. Curfew is 11pm Sunday – Friday and 12am on Saturdays.
Quiet Time: 11pm-8am Sunday – Friday and 12am- 8am on Saturdays
Campfires must never be left unattended, day or night. DO NOT MOVE FIRE RINGS.
Bicycles – no bike riding after dark. Please do not leave bicycles lying in front of office. Use bike rack around side of building.
Garbage – all overnight guests may place tied bags in any of the blue barrels. All seasonal campers bring ALL garbage bags to dumpsters. No loose garbage please. Don't be a litter bug. We keep our park clean and we expect you to do the same.
Fishermen – No fish cleanings in the dumpsters. Please see office for disposal site.
Swimming Lake – Swim at your own risk. Hours are 8am to dusk. Adults must accompany children and non-swimmers.
Firearms and fireworks are not prohibited (State Law).
Please be courteous of all guests. Rowdy and disorderly conduct will not be tolerated. Please do not walk, drive, or bike through or between others campsites.
Campsites -must be neat at all times. No electric heaters, electric water heaters, or electric cars allowed. Do not abuse our electric and help us conserve energy. No clotheslines left up when not in use. If your group uses extra tables, please put them back when finished. No erecting of fences, buildings (sheds, porches, etc.), flag poles, etc. without prior approval of management. All sheds and porches must be built above the ground. No poles set in the ground.
All large deliveries including sheds, campers, gravel, etc, must be done during the week (Monday – Thursday), and must have prior approval of management.
Phone Messages, will be placed with incoming calls in the office. Only emergency calls will be followed up. We assume no responsibility to deliver phone messages.
Public Restrooms – no admittance to restrooms when they are being cleaned. Please do not flush anything in toilets other than toilet paper.
Do not cut our trees, bushes or alter landscape without okay from management.
All Food and drink items furnished by the campground as part of their entertainment must be consumed in the Main building.
The campground is not responsible for accidents, inquires, or loss of money, damages to campers, cars, or other personal property.
Management reserves the right to evict person for noncompliance with the above rules or courtesies.
Cancellation Policy
CANCELLATION POLICY
· Cancellations 30+ days in advance will be fully refunded minus $10 admin fee.
· Cancellations 7 – 29 days in advance will be refunded all but one night stay.
· Cancellations less than 7 days in advance will not be refunded
· Holiday Weekends are non-refundable and non-transferable. Holidays require a 3-night minimum stay. Holidays include Memorial Day, Independence Day and Labor Day weekend.
· No refunds or rain checks for weather conditions, voluntary departure, acts of nature or evictions.