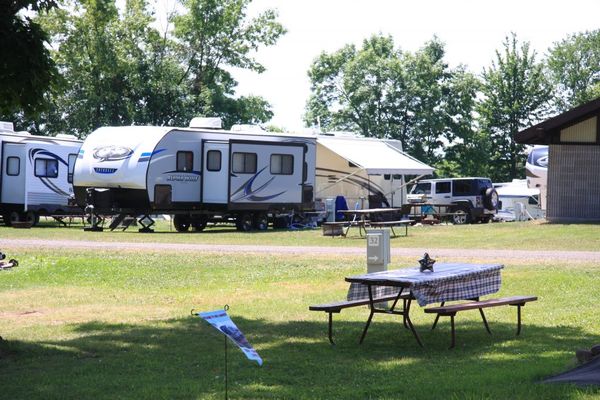 Eddy Park
300 Eddy Park Rd WAKEFIELD, Michigan 49968
Wakefield is situated in the center of four season recreation on the Gogebic Range with waterfalls, hiking trails, mountain biking, beaches, ATV and snowmobile trails, hunting, fishing, downhill and cross country skiing, and more right in our backyard. The beautiful shores of Lake Superior and wilderness of the Porcupine Mountains are mere miles away for a short day outing. Also, don't forget the area's most popular sandy beach at Sunday Lake located right in the city. Spend the afternoon with family and friends on the beach, in the playground, on the water, or in one of the pavilions and stay at the beautiful campground with full hookups and facilities for RVs or tents.
Amenities
15 Amp Service
30 Amp Service
50 Amp Service
Full RV Hookups
Playground
Boat Ramp/Launch
Volleyball
Accepts Credit Cards
Accepts Debit Cards
Pets Welcome
Restroom
Swimming Beach
Showers
Firepit (shared)
Beach
Fishing
Dump/Sani Station
Bike Trails
About the Owner
Contact the property
Phone: 906-229-5131 ext 1002
Policies
CITY OF WAKEFIELD RULES AND REGULATIONS FOR THE EDDY PARK CAMPGROUND CAMPERS/VISITORS ARE RESPONSIBLE FOR READING AND UNDERSTANDING THE RULES FOR THE EDDY PARK CAMPGROUND ON SUNDAY LAKE. CAMPGROUND RULES ARE POSTED AT THE CAMPGROUND HOST SITE (SITE #1) AND IN THE BULLETIN BOARD NEAR THE BATHROOM/SHOWER FACILITY. Rules are also available on the City's Website: www.cityofwakefieldmi.gov
If a maximum time limit is placed on a certain site, it will be monitored and if a stay goes over the listed maximum time limit, the stay will be shortened to the limited timeframe unless pre-approved.
1. There will be no camping without a valid camping permit. Payment is required prior to receiving a camping permit. Payment in full and registration is required prior to total set up.
2. There will be no littering within the camper park grounds. All waste must be placed in the containers provided by the City of Wakefield.
3. All picnic tables, grills, and fire rings must be cleaned before leaving the site. Taking picnic tables, grills, and fire rings from another site is not permitted without permission from the Campground Host. Fires are strictly prohibited outside of any designated fire rings or grills.
4. The damaging or destruction of any City property is prohibited and nay violation of this rule or regulation shall be subject to prosecution. Persons shall not destroy, damage or remove City property, trees, shrubs, wildflowers or other vegetation and may not cut trees in the park boundaries for firewood.
5. All pets shall be in full control of the owner. Any loud, constant barking or howling of dogs will not be tolerated. The owner will be liable for any damage or injuries caused by their pet. Pets are restricted to the lot area of the owner, unless the owner takes the animal off the lot on a restraint. No dogs or other, pets, except service animals are allowed in the swimming area at any time. The owner of any pet must ensure that droppings are cleaned up immediately and disposed of properly.
6. The use of full-size appliance, such as washing machines, dryers, stoves, refrigerators, freezer, etc., not permanently affixed to the camper is strictly prohibited.
7. The illegal use of alcoholic beverages or intoxicants is strictly prohibited, as well as the possession and/or use of any drugs prohibited by law. Users of the camper park shall conduct themselves in a manner that respects the rights of other camper park users to enjoy the camper park as a recreational facility for people of all ages. Violators of this regulation are subject to the penalties provided under the Wakefield City Code Chapter 114, Disorderly conduct and Section 9.101 and 9.102.
8. The speed limit on all roads within the park shall be 5 miles per hour.
9. Quiet hours must be observed between 11:00 pm and 7:00 am. non-registered visitor hours are 7:00 am to 11:00 pm. Exceptions to this rule will be made during City Special Events.
10. The campsite should be kept in neat appearance. Seasonal and monthly campers shall be responsible for mowing of the immediate area around their site, unless mowing arrangements are made.
11. Camping will be permitted only in established campground sites or in areas designated by the campground host.
12. No parking in vacant sites without Host permission. Violators will be towed at the owner's expense.
13. No more than one camp, occupies by a single family, will be permitted on an individual lot. No camp shall occupy more than one site unless additional site fees are paid.
14. Children must be kept under supervision by a parent or responsible adult.
15. Persons shall not discharge or operate firearms, air guns (BB, Pellet, etc), slingshot or bow and arrow within the park boundaries. There shall be no hunting, trapping, killing or intentionally disturbing wild like within the park boundaries. (Fishing is permitted and encouraged.)
16. No private docks may be constructed within the park boundaries.
17. Check out time shall be at 1:00 pm, check in 3:00 pm, unless permission is obtained from the camper host to leave at a specified time.
18. A reservation fee will be charged to all persons when making reservations. If the camper does not arrive as schedules, the fee is non-refundable. The reservation fee will be deducted from the camping fee when the camper arrives as scheduled. *SEE RESERVATION POLICY
19. Returned checks fees will follow the current City Policy & Fee Schedule.
20. No lifeguard on duty. Swim at your own risk.
21. The sale of any item is prohibited without a vendors permit, in accordance with Section 114.16 of the City's Code.
22. Mandatory 3 day stay over the Memorial Day Weekend, 4th of July Holiday, and Labor Day Weekend.
23. No Airbnb's or similar services allowed in the campground
24. No Seasonal or monthly spilt reservations
25. No WIFI extenders allowed
26. Camp sites in default for payment of more than seven days are subject to immediate eviction and personal property will be removed from the property.
27. In the sites 12, 14, 19, and 20 we do not allow any stays longer than one week. If a guest books for longer than one week into one of these sites, their stay will be shortened to one week.
28. In the sites 7, 8, 17, 18, 19, and 21 we do not allow any stay longer than one month. If a guest books for longer than one month into one of these sites, their stay will be shortened to one month.
29. Campers in campsites with designated gravel pads must park on the designated gravel pads or they will be liable for any damage occurred.
30. Only one recreational vehicle/trailer (ie. Boat, ATV, Jet Ski. etc.) per campsite, space as permitted.
31. No parking recreational trailers along the shoulder of the roadway.
NOTE: THE PARK ATTENDANT or the Police are authorized to remove any person from the Camper Park area at his/her discretion when he/she determines that a person may be in violation of the City Code or these rules and regulations. These infractions shall be treated as civil infractions permitting a lesser degree or proof on the part of the City of Wakefield enforcement.
VIOLATIONS OF ANY OF THESE RULES MAY RESULT IN EVECTION FROM THE PARK WITHOUT REFUND OF ANY CAMPING FEES.
Cancellation Policy
Cancellation Policy: As a courtesy, we would appreciate a 14 day cancellation notice. Immediate Family extenuating circumstance with documentation will be considered for full refund. Reservation Refund Schedule: February 7-28 (100%), March 1-20 (50%), March 21 to April 3(25%) and after April 3 (no refund). No refund will be made for any reservation canceled within 24 hours of your scheduled reservation.