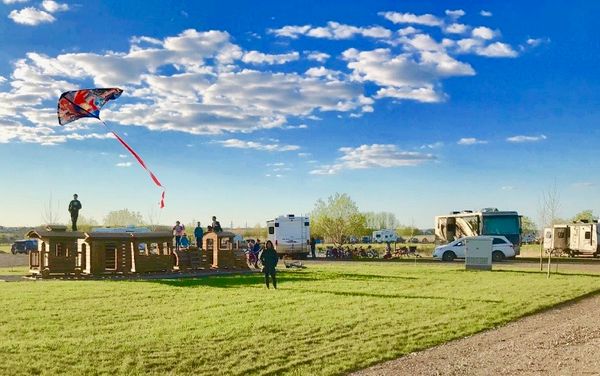 Discovery Wildlife Park
5400 42 Ave Innisfail AB, Alberta T4G 1P9
Discovery Wildlife Park provides you with the first ever opportunity to camp overnight in a zoo! Listen to the roars and howls and experience an exciting animal encounter each evening. Call or check our website for more details on this unique family experience. Offering cabin rentals as well as RV and tenting sites we have so much to offer. Cabins sleep 4 - 6 people and are equip with power. Please note that cabins do NOT have kitchen or bathrooms in them. We have two complete washroom and shower facility for you to utilize. All of our RV sites have 30 amp or 50 amp power service to meet your camping needs. We do not have water or sewer services in the sites. However we are able to fill your unit with water for $10/fill and have a touchless sani dump on site for $25/dump. We also have a stocked trout pond that you can try your hand at fishing (additional fees apply).
When booking a cabin rental for any weekend we do have a 2 night minimum stay. If trying to book for less than 2 nights it will appear that there are no cabins available.
When booking for a long weekend we do have a 3 night minimum stay. If trying to book for less than 3 nights it will appear that there are no sites available.
Amenities
Restroom
Lodging
Fishing
30 Amp Service
50 Amp Service
Showers
Playground
Handicap Accessible
Lodging/Campground Information
| | |
| --- | --- |
| Camping Rates | 30 AMP - $40/Night 50 AMP - $45/Night TENTING - $40/night |
| Room Rates | CABIN RENTALS - $100/night |
| Electric | Yes |
About the Owner
Contact the property
Phone: 1 403 896 3272
Fax: 1 403 227 3216
Policies
DISCOVERY CAMPGROUND GUIDELINES
Park Hours: Park hours are from 10am-5pm. No campers are allowed in the Park before or after those hours. Please remain in the campground until the Park is open in the morning.
Washrooms: Washrooms and showers are located inside the entrance as well as on the North end of the Campground. Showers are coin operated and use only loonies ($1 coin). Please do not haul water out of washroom facility and do not wash dishes or clothes in bathroom sinks. There is a metered tap outside the bathrooms for purchasing potable water. $1/gallon (4 Litres) must bring own pail or jug. Please no pets in the washroom.
Trees & grass: Do not drive or park on the grass. Trees are not to be touched. Do not break or pull on branches. No climbing in the trees. Pets are not to be tied to the trees. You will be charged a fee for any damage to the trees! Please place propane bottles on the gravel not the grass.
Extra charges: There will be additional fees added on for any damage to property or abuse or neglect of these campground guidelines.
Alcohol/Cannabis: Alcohol or cannabis may only be consumed at your site. No visible alcohol or cannabis may be carried around the campground, and NO alcohol or cannabis or intoxicated persons will be allowed into the Park under any circumstances. Remember that smoking anything carries on the wind. Please be respectful of others in the campground. We do retain the right at our discretion to ask anyone to leave that abuses this policy.
Parking & Visitors: Parking is supplied for one vehicle per site. Vehicles must be parked beside your trailer/camping unit not on the road. Do not drive or park on the grass. If you have a second vehicle, it will need to be parked in our visitor parking area - please ask for a parking pass at the campground registration booth located at the campground entrance. Visitors to the campground must pay a $3/day fee and are required to be out of the campground by 10:00pm.
Fishing: There is a $5/person/day fee to fish in our pond and a fee of $5 per fish with a maximum of 2 fish/person/day. There is NO catch and release allowed – you may eat the fish or they can be donated to the animals in the Park. There is no provincial fishing license required, however, if you wish to take the fish home to eat later, please check in at the office – you will require our license number to show where you caught the fish. Absolutely NO fishing after dusk!
Pets: There will be a $5/pet/day charge. All pets must be contained within your campsite. Pets must be on leash at all times and never tied up and left unattended. Pets may be walked on the road within the campground area, but not past the gates. Please be aware of the park's animals across the road – if they are obviously agitated by your pet, please leave the area immediately. Campers must clean up after your pets, and if any pets are bothering other campers, you may be asked to leave at the attendant's discretion. Please do not tie pets to our trees! This strips the bark and kills the trees.
Speed Limit: 10km/hr. is the speed limit within our entire facility. This includes the parking lots, roads to the campground, and within the campground itself. Please adhere to this. The dust from the road covers the grass in animal enclosures and could cause respiratory issues for some of our animals.
Contacts: Contact the campground attendant at 403-896-3272.
For emergencies only call Doug 403-350-8822 or Debbi 587-877-5054
Rates: $100/night for cabin rental - $40/night for 30 amp site - $45/night for 50 amp site. Three night rentals are required for long weekends. Rates are based on family groups – maximum of 2 adults and their dependent children. Extra adults are $5/night.
Tenting: $40/night. If you wish to set up a tent for dependent children only on a site with an RV or trailer, there is a limit of one tent per site and they will be charged $5/night extra.
Cancellation: If cancelled ten days or more prior to booking date, full refund will be given less $20 cancellation fee. No refund within the ten days of booking date.
If you prefer to reschedule instead of cancelling, no fee will be charged, however, if you have to cancel the rescheduled date, there will be no refund. You may reschedule only once.
Fires: No open fires - only propane fire pits are allowed. Propane fire pits may be rented for $10/night, propane bottles may be rented for $15 (will run approx. 7 hours) or you may bring your own. We can also fill your tanks - $15 for 20lb and $20 for 30lb tanks.
Check in times: RV/Tents Check in time is 2 pm and check out time is 11 am.
Cabins Check in time is 3 pm and check out is 11 am.
We do require all campers to be in the campground by 10 pm at the latest. Gates will not open after this time.
Quiet hours are in place from 11 pm to 7 am.
Gates Locked: Gates into the Campground itself will be shut from 10 pm to 8 am. Main parking lot gates into the Park will be locked at 5:30 pm and reopened at 10:00 am. If you need to leave in our off hours, you may exit the Park through our main parking lot gates by driving up to them – the sensor will open for you. To re-enter the Park in off hours, you must phone the campground cell 403-896-3272 (posted on gate). ENTRANCE IS ONLY PERMITTED BETWEEN 8:00AM AND 10:00PM. You will not be able to enter the property anytime before or after these hours.
NO Swimming: Public are not allowed in the pond – no swimming, no floating tubes, no pets and no throwing rocks into the water. Children 12 and under must be accompanied by an adult at all times. No lifeguard on duty.
Recreational Vehicles: Quads or other motorized recreational vehicles are not allowed within the Park or the Campground. Children's battery operated vehicles are also not allowed. Bicycles may be ridden only on the roads within the campground but not around the unfenced area of the pond. Bicycles and battery operated vehicles are never allowed into the Park under any circumstances. Please no drones in the campground or Park!
Picnic Tables: Each site comes with a picnic table on the gravel parking pad. You may place the table anywhere on the grass that you like – we do ask that you place it back on the gravel pad of your site when you are leaving.
Fireworks: Absolutely NO fireworks may be used in the Park or the Campground. No exceptions! This is a Town bylaw.
Garbage & Recycling: Garbage dumpster is provided for your convenience. Please ensure no garbage is left on your site when you leave. A recycling bin is also provided for bottles, pop cans and any other recyclable item. Please do not discard broken furniture, small propane tanks, tarps or other bulky or explosive items in the dumpster.
Park Access: Admission to the Park is NOT included in the camping fees, unless you have pre-purchased it (see Registration page). Park admissions may be purchased from the campground attendant or at the front desk of the Park (accessible from the main parking lot). Campers will have to drive or walk to the main building to access the Park (about ½ mile).
Golf Carts: The Park rents 4 seat electric golf carts - $15 an hour or $10 an hour for seniors/disabled persons. You may rent these at the front desk of the Park. Drivers must be 18 and up and have a valid driver's license. Golf carts are not to be driven to the campground!
Seasonal Stays: Optional at this time, however, there are no full hook-ups available. Please ask to speak to the owners if you are interested.
Cancellation Policy
Cancellation: If cancelling 10 days or more prior to your scheduled date of arrival you will receive a full refund minus a $20 cancellation fee. Please note the $7 online booking fee is non-refundable. If cancelling within the 10 days no refund will be given. You are welcome to reschedule your trip at no extra cost however if you have to cancel your rescheduled dates no refund will be given. You may only reschedule one time.