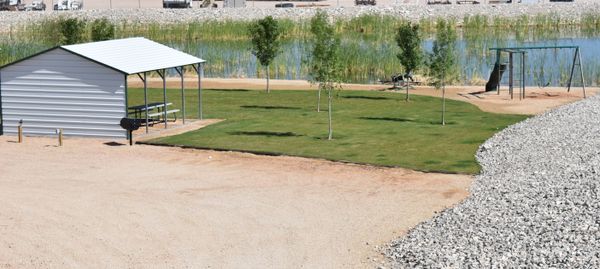 Bonnie and Clydes Getaway RV Park
4154 7 Rivers Hwy Carlsbad, NM 88220
Nestled just outside of town on a 30 acre mixed use ranch, Bonnie and Clyde's Getaway RV Park has everything you and your family need for extended stays in Carlsbad, including a brand-new coin-operated laundromat! This 40-space RV Park with on-property management is pet-friendly and kid safe! Also on site is a large pond area with picnic shelters, grills, tables, and a playground! Surrounded by state land you have quick access to trails and the river! Also located on surrounding state land is what locals claim to be the original stone foundation of the gas station where Bonnie and Clyde kidnapped the sheriff! Close proximity to the George Shoup Relief Route and the 524 Happy Valley Bypass- our park is nicely situated between Carlsbad and Artesia for all of your work and leisure plans! We pride ourselves on being community-minded and a safe and friendly place for children to play. Rental rates include all utilities and WiFi. Overflow parking available for trailers and toys.
For Any Park Related Needs, Questions, or Concerns, Call 575-988-5692 for the Manager on Duty.
Amenities
30 Amp Service
50 Amp Service
Laundry/Laundromat
Playground
Picnic Area
Fishing
ATV/Off-Road Trail
About the Owner
Contact the property
Website: https://m.facebook.com/Bonnie-and-Clydes-Getaway-RV-Park-100248151359492/?ref=page_internal&mt_nav=0
Email: [email protected]
Policies
QUIET TIME: 9:30PM-8AM
ONLY 1 RV PER SPACE. NO TENT CAMPING PERMITTED. MAINTENANCE OF RV SPACE: Tenant shall keep and maintain the RV Space in a clean and sanitary condition at all times. Do not collect unnecessary items on your RV site. Sites must be free of all excess clutter- please remember we can have high winds in the area causing items to blow. LIMIT OF 2 VEHICLES PER SPACE: Vehicles must be parked within your designated space and not in other empty spaces within the park, at the laundromat, or in roadways. PETS: (including cats) All pets must be on a leash (6-foot maximum) at all times. Do not let your pets run loose. No exceptions. Pet waste must be picked up immediately. No excessive barking or you will be asked to immediately remove your pet or leave your space. Pets cannot be left unattended outside. CONDUCT: Disorderly conduct, drunkenness, illegal drugs, obscene language, obnoxious, disruptive or vulgar behavior will not be tolerated. TRASH: Dumpsters located at the park entrance are for guests only. Do not bring outside trash. DO NOT leave trash outside your RV. Dispose of all trash immediately in the dumpster. Outdoor garbage cans are not permitted due to high winds. CHILDERN: We want the children to be safe and have a good time. If outside, always have your children under watchful eye of parent/guardian. Please use good judgement if you decide to leave your children at the RV Space when you are gone. You are responsible for their behavior. DO NOT leave any furniture or lightweight items outside when not at home. There are severe winds in the area that can blow unattended items into other units and cause damage. If your items blow into another trailer or vehicle and cause damage, you will be responsible for the costs of all damages. SPEED LIMIT: The speed limit is 5mph in and out of the park and 15 mph on the access road. NO MAINTENANCE, WELDING, OR FABRICATING to be done in the RV Park (this includes wood or metal work). NO WOOD-BURNING CAMPFIRES permitted at any time in the RV Park. ATV'S may be stored in the RV Park at your designated spot but must be driven in compliance with the speed limit and taken immediately out of the RV Park when being operated. ATV's causing dust and commotion will not be tolerated. SAFETY AFTER DARK: No bike or scooter riding permitted after dark, please carry a flashlight after dark so motorists and individuals can see you. NO CLOTHESLINES permitted in the park. NO WASHING RV'S in the park. TRAILERS AND EXCESS VEHICLES that do not fit within your designated space may be stored in the overflow parking lot across from the park entrance during your stay. Vehicles or trailers left after your stay will be impounded. PARK AND PICNIC AREA is here for your enjoyment. Please go prepared to pick up any garbage or pet waste and dispose of in main park dumpsters. There are no trash receptacles at the picnic area. LAUNDROMAT is open 24/7 and coin operated with a change machine inside. Please be courteous to other guests and do not leave laundry unattended for long periods of time and clean up any debris you may leave behind. Please shut lights off when leaving the building and do not bring food or beverages inside to prevent bugs.
RV Park management has the right to evict guests at their discretion at any time for non-compliance. The RV Park management may modify these rules at any time.
Waiver of Liability: Renters and their guests shall not hold RV Park Owners, Managers, or agents of the Owners liable for any or all claims, demands, costs, and expenses, including reasonable attorney's fees, arising from any and all damages or injuries. Damage and liability coverage are the full responsibility of owner/renter of the RV Space. Rental space remains under control of the RV Park Manager. Owners and managers assume no liability for loss or damage to guest property and/or injury to person, pet, or party arising due to use of the RV Park and facilities or caused by others on the premises.
Cancellation Policy
All reservations are non-refundable.