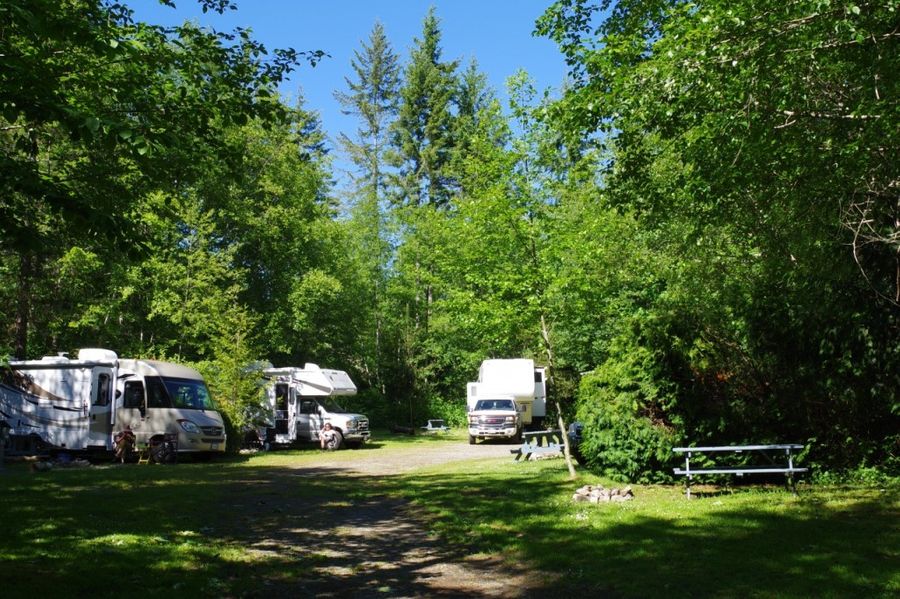 Sunlund RV Park & Cabins
1496 Murray Rd., Lund, BC V0N 2G0
Surrounded by alder, cedar, maple, and cherry trees in a beautiful park-like setting, SunLund RV Park & Cabins is a fantastic place to unwind and explore the great outdoors. Located in downtown Lund, there is short footpath access to restaurants, marina, grocery stores, beach and other attractions.
Enjoy luxury camping in one of the self-contained cabins with ensuite bathrooms, private decks, and outdoor cooking facilities. The two-bedroom cabin has a combination of queen and single beds. The one-bedroom cabin features a queen bed and fireplace. There is also a cabana which sleeps two people.
SunLund offers private creek-side, sunny, or shady RV sites with full hookups. RV sites are slide-out friendly, accommodating all RV sizes. All sites feature drinking water, 30 amp electricity, sewer, picnic table, firepit and a WiFi hot spot. The showers and laundry facilities are spotlessly clean.
All RVs must have a toilet because the shared washrooms are currently not open due to Covid restrictions.
Amenities
Potable Water
Showers
Store
Office
Laundry/Laundromat
Wifi
Close to Coast (within 10 mi)
Bike Rental
Picnic Area
First Aid
Accepts Debit Cards
Accepts Credit Cards
Hiking
Wildlife Viewing
30 Amp Service
Big Rig Friendly
Full RV Hookups
Pets Welcome
Seasonal Campsites
Sewer on Site
Water on Site
Balcony
Fireplace
Kitchenette
Non-smoking Rooms
Handicap Accessible
Lodging
Reviews
Lodging/Campground Information
| | |
| --- | --- |
| Seasonal Sites | 3 |
| Camping Rates | By reservation - Serviced $45-$49/nt based on double occupancy Add'l Adult $4 Child over 2 years $4. Weekly, monthly & seasonal rates available |
| Rooms with Kitchens | 2 |
| Room Rates | Cabins $89-$275 Cabins Open All year |
| Max Length (of RV) | 50 ft |
About the Owner
Contact the property
Policies
Please Note: SunLund's public washrooms are closed indefinitely.
To make your stay and that of others a happy experience, you must abide by the following Rules:
Practice common sense and consideration at all times.
Abide by the posted Guest COVID-19 Code of Conduct.
Check-out time is 11am. Payment must be made by 11am prior to each day's stay.
Quiet hours are between 10pm and 8am. Quiet voices, no generators, and no profanity.
If your neighbour can hear your music, it's too loud. Turn it down or turn i off.
Maximum of five people and one RV per site. A tent is permitted beside your RV.
One parking pass is issued for one vehicle per site (two for the Discovery Cabin). Parking stalls may be available to rent for extra vehicles.
Children, pets, and campfires are never to be left unattended. Pets must be leashed and their poop must be scooped.
Do not move the fire pit and do not put non-burnables in the fire pit - including cigarette butts, bottle caps, seashells, cans, etc, otherwise a Clean-Up Fee may apply.
Do not secure anything to trees, forage for firewood, cut branches, or chop down trees.
The speed limit is "walking speed". Ensure you are parked completely off the roadway. Lock up your valuables and vehicles.
Waste liquid must be disposed of in the drains provided at each site, not onto the ground.
Smoking is not permitted anywhere on the property.
Visitors, when permitted by the management, must sign in. Parking charges may apply.
Please use SunLund's recycling centre and garbage bins. Don't leave garbage, food, or dirty plates/cookware outside over night. Return seashells to the ocean. DO NOT put them in the garbage bins or fire pits.
The great outdoors are not a latrine so use your own toilet.
Cancellation Policy
The first night's fee is required for a deposit and is nonrefundable however it is transferable if you need to change your arrival date (subject to availability). Any outstanding balanced is processed on your arrival date precheck-in.
If you do not arrive on the date booked, or if you cancel the day before your arrival, your credit card may be processed for the full value of the reservation.
Privacy Policy
Information requested is required per the BC Hotel & Lodging Act. Information collected is for SunLund's statistics and will not be used for solicitation purposes, nor will it be divulged to third parties except as required by law.