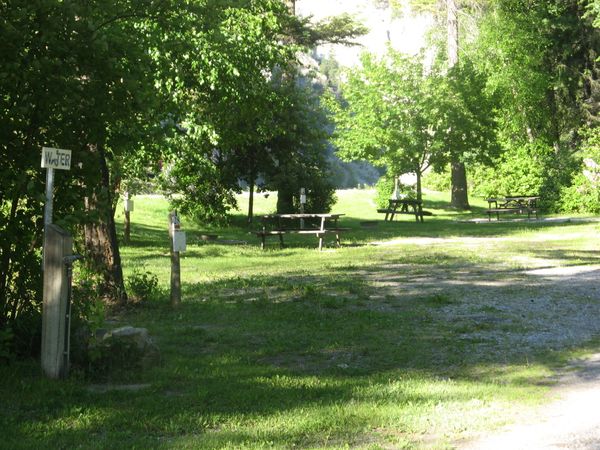 Golden Municipal Campground
1411 9th Street South Golden, BC V0A 1H0
ATTENTION -Please Read Before Booking SHOULDER SEASON
1. There are highway closures Please visit https://www.kickinghorsecanyon.ca/calendar
2. When you arrive our office may be closed you will be expected to check -in on our kiosk on the Deck near the ofiice this will signal us of your arrival and you will be texted the codes for facilities and wifi
3. Yes the campground is across from the High School and across the river is the Rail way.
4. Masks must be worn inside our office . BC does require proof of Vaccination for certain activities and events please familiarize yourself with this prior to booking. https://www2.gov.bc.ca/vaccinecard.html
5. FIRST NIGHT STAY IS NON REFUNDABLE FOR ANY REASON
Amenities
Accepts Debit Cards
Accepts Credit Cards
Store
Fishing
Laundry/Laundromat
Water Front
30 Amp Service
Dump/Sani Station
Restroom
Wifi
Pets Welcome
Pull-thrus
Showers
Water on Site
50 Amp Service
Sewer on Site
Picnic Area
BBQ Grill
Bocci Ball
Office
Womens Restroom
Mens Restroom
RV Parts ($)
Firewood ($)
Potable Water
Generic Point of Interest
Propane ($)
Reviews
Campground Information
| | |
| --- | --- |
| Camping Rates | Reduce your Rate by 10% by purchasing a Good Sam Membership See our Webpage for details **USE OF OUR ONLINE BOOKING PLATFORM ** will result in a additional fee from the software provider (not by the campground of $3.75) This is not refundable. The Benefit of online booking allows you to choose the site you want! RATES ARE BASED ON 2 ADULTS AND 2 CHILDREN Partial Service $38-$50 Unserviced $35 |
About the Owner
Contact the property
Phone: (250) 344-5412
Toll-Free: (866) 538-6625
Policies
POLICIES
UPON CHECK IN YOU WILL BE ASKED TO AGREE AND SIGN OUR WAIVER TO STAY AT OUR CAMPGROUND. INCLUDED IN THAT WAIVER WILL BE OUR CODE OF CONDUCT RELATED TO PUBLIC HEALTH ORDERS AND COVID-19
OFFICE/STORE HOURS 9:30 am to 9:30 pm in the Peak Season ( WE CLOSE THE OFFICE BETWEEN 11 AM AND 1 PM FOR CLEANING) and is subject to change in Shoulder and Off Season
CHECK-IN/ CHECK-OUT Check in not before 1:00 PM Mountain Time Check out is 11 am Mountain Time*
WE HAD TO INITIATE A $100 AN HOUR FOR THOSE THAT DO NOT CHECK OUT BY 11 AM. I KNOW CRAZY BUT IT HAS BECOME SUCH A HUGE ISSUE…
Also NO LATE ARRIVALS WE LOCK OUR GATE .. SO YOU MUST BE CHECKED IN BY 11 PM .
VEHICLE As we like to keep roadways clear in case of emergency. If you require additional parking please see map for additional visitor parking
QUIET TIME is 10:00 pm to 8:00 am. All music to be kept at reasonable levels at all times and turned off at 10:00pm. Campers with complaints about noise levels should contact office and after 10 pm should inform RCMP at 250-344-2221 or 911 for emergencies. GENERATOR use is only permitted between the hours of 9am – 11am, and from 6pm – 8pm.
FIRE PITS Please refer to Fire Permit for
Rules and Regulations. IN CASE OF PROVINCIAL FIRE BAN DO NOT ATTEMPT TO HAVE A FIRE AS YOU WILL FACE CRIMINAL CHARGES. FIRE PERMITS MUST BE DISPLAYED ON POST. FIRES MUST BE OUT BY 11 PM
RECYCLING AND GARBAGE Dumpsters are located on the grounds. We would ask you to leave your site as you found it and deposit all garbage in dumpsters.
There is a recycling bin near the wash house. (s) Smokers: Cigarette butts are regarded as garbage Please don't throw them on the ground or fire pit, ash cans are available at office
SMOKING Smoking is allowed in the great outdoors, but not in any buildings on campground. To avoid possible fires, please extinguish in a proper container and not on ground. Ash cans are available at office New smoking cannabis can only done with in your camping unit (trailer, tent or RV)
ALCOHOLIC BEVERAGES Moderate Drinking is allowed within your own Campsite. Public Intoxication will not be tolerated we are a family campground.
LOST AND FOUND Please return all found items to office. PETS They are welcome in the park providing they are on leashes at all times and cleaned up after. Please do not leave your pets unattended.
PICNIC TABLES Each site is provided a picnic table. If you combine tables it is your responsibility to move the picnic tables back.
GUESTS Must register at office and must vacate campground by 10 pm (Please refer to map for Visitor Parking)
SPEED LIMIT Speed Limit is 15 KM WATCH FOR CHILDREN!!!
WASHING DISHES Please use outdoor sink at wash house to wash dishes, or sink in Laundry room at Amenity hub
Maximum of 14 Night Stay Golden Municipal Campground does not allow people here to set up residency in Golden. If you are working in Golden you can not use the campground as a residence.
Only those that are residing in a site can book a site. All multiple bookings under one name may be cancelled by Operators of the Golden Municipal Campground. Exception: COMMERCIAL TOUR COMPANIES
Cancellation Policy
Welcome to the Golden Municipal Campground
IMPORTANT INFORMATION
CHECK IN :1 PM (MT) CHECK OUT: 11 AM (MT) No Exceptions
1. PLEASE PROCEED TO OFFICE UPON DAY OF ARRIVAL TO CHECK-IN AFTER 1 PM (MNT TIME) SORRY NO EXCEPTIONS..
2. PLEASE NOTE WE REQUIRE ALL GUESTS TO BE CHECKED IN PRIOR TO 11PM. YOU MUST CHECK IN EVEN IF OFFICE IS CLOSED USE OUR KIOSK OUTSIDE OUR OFFICE OF OR THIS LINK
3. DO NOT CHECK IN IF YOU HAVE NOT ARRIVED. … IF YOU FAIL TO CHECK IN YOU WILL NOT GET CODES FOR BATHROOMS OR WIFI AND GATE…. ABSOLUTLEY ..NO ENTRY AFTER 11 PM
5. IF YOU PLAN TO BE LATER THAN 8 PM PLEASE CALL THE OFFICE 250-344-5412 TO LET US KNOW..INCLUDE NAME SITE NUMBER AND ETA IF YOU REACH THE ANSWERING MACHINE.
Please confirm your dates and site if there is a issue please contact our campground operator at 250 344 5412 , or by email before May 1st. [email protected]
When you arrive please park across from the campground office in the parking lot.
Cancellation Policy: Golden Municipal Campground will retain a 1-night site fee as a Non Refundable Reservation Processing Fee for ALL BOOKINGS. There are no fees for Changes however we can not guarantee availability. All Reservations are charged in FULL at time of Booking. You must cancel or make changes at least 48 Hours prior to date of Arrival of lose the remainder of your payment. If you fail to arrive on your arrival date and not inform office of changes to your arrival your site will be let, go. CLICK HERE TO
Cancellation Policy: Agree to Cancellation Policy: Golden Municipal Campground will retain a 1-night site fee as a Non Refundable Reservation Processing Fee for ALL BOOKINGS. There are no fees for Changes however we can not guarantee availability and must be made for the same season.. All Reservations are charged in FULL at time of Booking. You must cancel or make changes at least 48 Hours prior to date of Arrival or lose the remainder of your payment. If you fail to arrive on your arrival date and not inform the office of changes to your arrival your site will be let, go. CLICK HERE TO CANCEL